Katie over at
Loves of Life
is hosting a pretty fabulous Valentine's Day themed swap! I love a good swap because really, I love to see a little something extra in my mail every now and again (sorry, Capital One, that crap you send doesn't count) to remind me that there's more to life than just bills and junk mail. Ya know?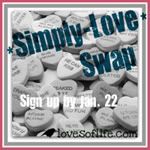 So click on over (via the button above) to Katie's blog by January 22 to sign up. There's a neat little survey to fill out so your swap partner knows what you like, and a $15 limit so it doesn't break the bank.
Happy Thursday, y'all! I have a giveaway of my own coming up, so check back tomorrow!